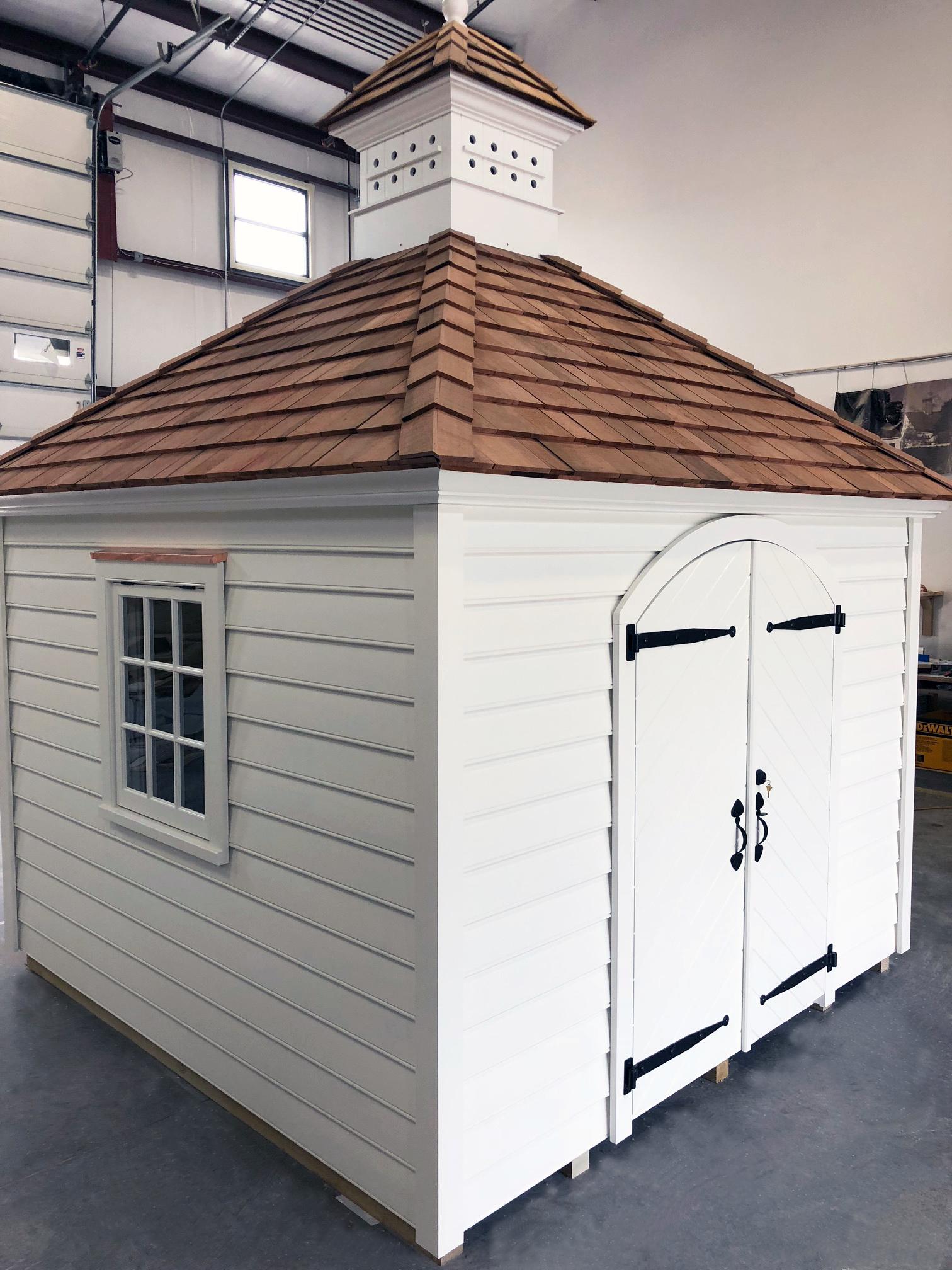 Williamsburg Classic™
Can't wait? We understand. Which is why we typically stock (ready to ship) our popular Williamsburg Classic in 10 x 10 size. Exterior is hand-finished in 1-color premium Sherwin Williams Duration classic pure white.
STANDARD FEATURES:
Two (2) 9-lite awning windows with true divided lites and copper drip caps
Double Arch Chevron Doors (54") with forged hardware pkg
Dovecote cupola with cedar roof and finial
T & G wide cypress floor boards with reproduction nails
Clear, select cypress siding with bead profile
True 2 x 4 poplar 'cottage framing' with let-in wall bracing
Poplar rafters and skip lath
Cypress corner boards with lock-miter joinery
Cypress crown molding
Ice/Water roof flashing
Western Red Cedar shingles, taper sawn, No. 1 Blue Label
Grade A, Kiln-Dried after treatment 4 x 4 skid base
Grade A, Kiln-Dried after treatment 2 x 4 floor joists
¾" ply subfloor
stainless steel screws/nails
Primer base coat, 2-top coat hand-finishing
In most areas a building of this size (under 100 SF) does not require a permit. We suggest, however, that you check with your local township for permit requirements.
We recommend that building be placed on a 4" concrete slab measuring 10-0 square to properly mate with our building base.
Because demand for the Williamsburg Classic fluctuates throughout the year we advise contacting our office to check on stock status.
Price as shown (finish in white): $16,500 + delivery
$2,000 SAVINGS compared to made-to-order
 NOTE: Loft, window screens, workbench, lantern mounts, clear coat on floor boards and other options are available for additional cost.